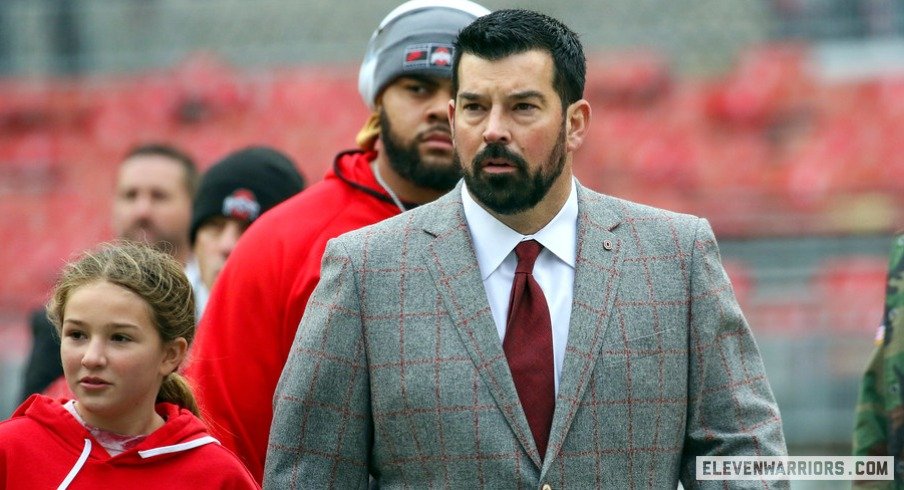 Only four days remain until Ohio State and Michigan State's Saturday showdown in Columbus.
Buckeye head coach Ryan Day discussed the upcoming matchup Tuesday at the Woody Hayes Athletic Center, with Ohio State juniors Zach Harrison and Garrett Wilson scheduled to step up to the podium thereafter.
Here's a bullet-point breakdown of everything the Buckeyes discussed at Tuesdays' press conference.
Ryan Day

On redshirting Evan Pryor and Kyle McCord, Day says "if we can, we'd like to."
Day says Master Teague is "kind of day-to-day right now." Teague has been unavailable in three of the past four games.
Day says he doesn't think most of the draft eligible players on the team have made a decision on whether or not to stay or leave next season just yet.
Day says Kenneth Walker's ability to make players miss in the hole is one of his best attributes at running back for Michigan State.
Day on not getting much of a pass rush against Purdue: "certainly there's times where we could've tightened up the coverage, and times we could've gotten to the quarterback faster."
On how TreVeyon Henderson and Miyan Williams complement each other, Day says Williams is "strong, powerful," good at running on contact. Day says Henderson is more of the "home-run hitter" of the two.
On Bryson Shaw, Day says "he's graded out a champion, he's got tremendous work ethic, he's a tremendous teammate." Day says every player will want some plays back, but that he's sure Shaw will get any issues from last week fixed.
Day on parity in the Big Ten: "You have to bring it week in and week out. That's the challenge right now and obviously it's a lot stronger this year than maybe it was in the last couple."
On not being at the MSU game last year due to COVID-19, Day says "certainly would never want to go through anything like that again." Day says it was a "big challenge" and "not easy at all." Day says playing in hostile environments with fans in the stands is "one of the reasons why you coach."
Day says Mel Tucker turned the Spartans into a "champion-level roster."
Day says "there's been some things the past few weeks that have come up" in terms of injuries and absences on the Buckeye offensive line. Day says the plan moving forward is to still play a six-man rotation, including Matt Jones.
Day says the Buckeyes have been giving C.J. Stroud "more and more" freedom to change things and make decisions at the line of scrimmage.
"Parker Fleming has stepped in and done a very good job up to this point scheming and putting things together." Day says "we have a really good core of guys on special teams." Day says the special teams walkthroughs are "as sharp as I've been around."
Day says the Michigan State defense creates turnovers and doesn't give up a lot of big plays, while its offense controls the game with the run and then sets up the play-action pass. "That's kind of their recipe."
Day says Garrett Wilson's football IQ has increased dramatically over the past year.
On Chris Booker, Days says "to see Chris make some of those big plays like that on special teams, it was tremendous."
Day says he's "aware" of the Ohio State club football team, but that he "can't say I'm an expert on what they're doing."
Day on the pass rush and secondary working in unison: "It's everything. Tying up the front with the back end is exactly how you put a defense together."
Day says "you're looking for some sort of extraordinary trait" when scouting quarterback talent, and that he tries to envision what that trait will look like in his offense when he watches recruits.
"If guys are where they're supposed to be and C.J. throws it where he's supposed to throw it, the ball's going to be spread around pretty good."
On Chris Olave being a Biletnikoff semifinalist despite being the team's third-leading receiver, Day says some opposing defenses have "just decided to take him away" in their game plan. However, Day says Olave is a great teammate and team player.
On the Buckeyes' senior class, Day says he told the seniors to not wait until the last game to leave it all on the field. Day says this week will "bring up some emotions."
Day says "it's a huge challenge" against Michigan State and that "we've got everything on the line here." Day says "this is what it's all about … this is why you come to Ohio State."
Day on playing MSU late in the season as opposed to early on: "I think we're both different now. It's just a different challenge. We're just a different team now."
WR Garrett Wilson

Wilson says the wide receiver room has adjusted to several different things about C.J. Stroud's play this year as it differs from Justin Fields. One of those things is that Stroud does less scrambling, so the wideouts haven't had to do as much "scramble drill" work.
Wilson says he has "the ultimate amount of trust" in Stroud at quarterback.
Wilson says he's "definitely thought about" whether or not this will be his last game at Ohio Stadium, but that he won't make a final decision until after the season.
"Not a lot of other programs could say" that three wide receivers are approaching 1,000-yard seasons for the same team. Wilson says if that ends up happening this season, Ohio State will be able to use it as a recruiting tool.
"Being at Ohio State to this point is everything I could've dreamed of and more."
Wilson says he was "doing a lot" last season, but that he knew "deep inside" that he could improve significantly ahead of his junior year. "I definitely feel like I've approached this season differently."
Wilson says one goal for the Ohio State wide receiving corps has been forcing the secondary to actually guard them on first downs, usually a run down, due to the pass threat the team brings to the table.
Wilson says he saw the Eleven Warriors article on C.J. Stroud being the Heisman Trophy favorite.
Wilson says playing basketball, football, soccer and gymnastics has helped him move instinctually on the field, and that he doesn't think about his movements ahead of time once he gets the ball.
Wilson says Stroud texts players on Mondays or Tuesdays to discuss upcoming competitors and their tendencies. Wilson says he "can't think of a week" where Stroud hasn't texted him something like that.
On repping 50/50 balls in practice: "When you get the chance, (but) it's hard to replicate those in practice."
Does Wilson think he should be a Heisman candidate? "Nah, it's gotta be the QB. … He makes me look good."
Wilson says he's "one of the most flexible guys on the team."