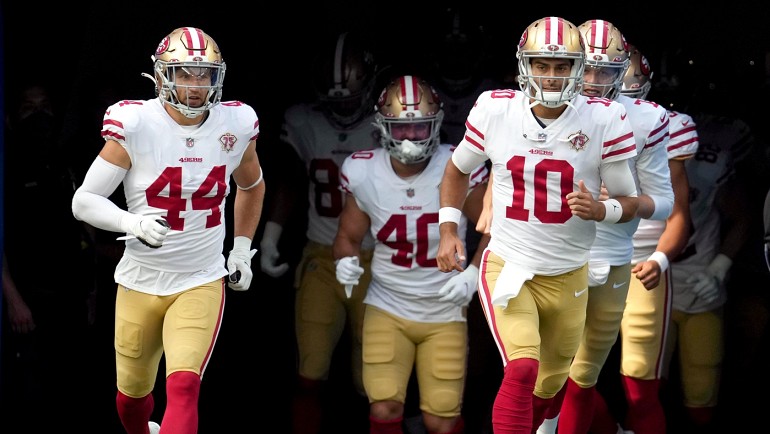 ESPN's latest NFL power ranking is causing a bit of a stir among fans. Not only does writer Mike Clay have the San Francisco 49ers ranked No. 15 in the league, but he also has them as the last-listed representative of the NFC West.
While the 49ers and Los Angeles Rams are oddsmakers' favorites to win the division, the Seattle Seahawks surprisingly come in at No. 6, the highest-ranking among the four NFC West teams. The Los Angeles Rams can be found six spots later at No. 12. Even the Arizona Cardinals are ranked higher than San Francisco. One spot higher, in fact, at No. 14.
So why the low ranking from Clay? He blames the tough division. All four NFC West teams sit in Clay's top 15, but the decision to list the Niners last created chatter on social media. Yes, San Francisco has suffered losing seasons in five of the last six years. Still, the roster resembles the 2019 Super Bowl contender more closely than some of head coach Kyle Shanahan's earlier squads or last season's injury-depleted one.
Clay even admits that the healthier 49ers are due for a bounceback.
"The Niners have a terrific offensive line and a good core of offensive targets led by George Kittle, Brandon Aiyuk and Deebo Samuel, but it is yet to be seen how much they get out of the unsettled Jimmy Garoppolo/Trey Lance quarterback situation," wrote Clay.
The team's strength might be its defense and deep defensive line, which will see the return of pass rushers Nick Bosa and Dee Ford. Both missed most of last season due to injuries. There are secondary concerns, though, and the team lost its defensive coordinator from the past four years.
"The defense has more voids than in years past and coordinator Robert Saleh is gone, but star power remains in the form of Nick Bosa, Arik Armstead, Fred Warner, Jason Verrett and Jimmie Ward," added Clay. "This is a decent roster that will need to overcome a tough division in order to find its way back to the playoffs."
H/t to Chris Wilson for the find.
More San Francisco 49ers News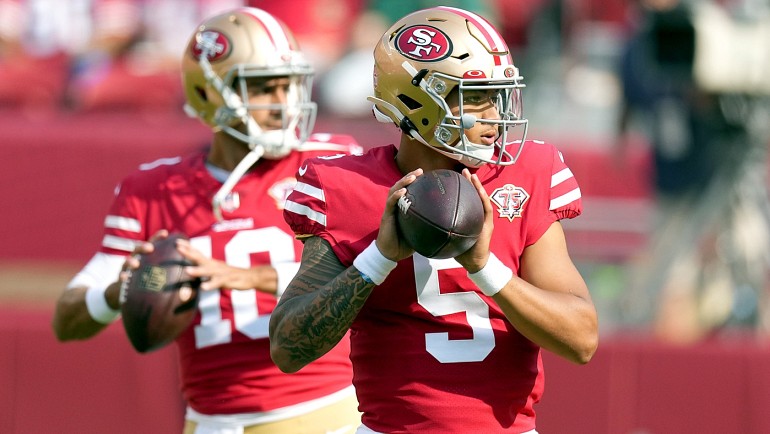 Greg Cosell identifies one flaw with 49ers QBs Jimmy Garoppolo and Trey Lance
Jimmy Garoppolo and Trey Lance each threw an interception during Sunday's preseason game against the Los Angeles Chargers. Each throw sparked debate on social media. Did the quarterback throw the football out of reach, or did the wide receiver fail to make the big play? Or was it a little bit of both?
Analyst Greg Cosell is siding with the receivers. The situations in which Garoppolo and Lance found themselves, the ball placement should have been better.
"Whenever a ball hits a receiver's hand, everybody says, 'Oh, he should catch it,'" Cosell said this week on The Rich Eisen Show. "And that's always easy to say, but when you're clean in the pocket, and a receiver's open in this league, you have to put it right on his hands. That's NFL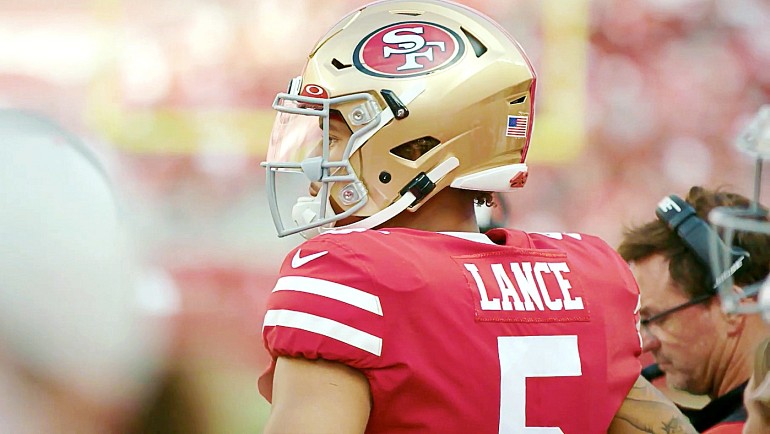 49ers' Kyle Shanahan reveals the hurdle Trey Lance still has to overcome
San Francisco 49ers head coach Kyle Shanahan joined KNBR's Tolbert, Krueger & Brooks show this afternoon. No, he did not officially announce his starting quarterback. Sorry.
He also would not announce his backup quarterback. The hosts tried to get that information out of the 49ers coach instead.
"I'm going to save that for Sunday, Week 1, also," Shanahan declared.
Shanahan did discuss Trey Lance, though. The coach feels his rookie quarterback is progressing well. Nothing Shanahan said would indicate that Lance is ready to take over the offense just yet, but the coach is happy with the quarterback's progress in learning the playbook.
However, there is much more than simply knowing the playbook inside and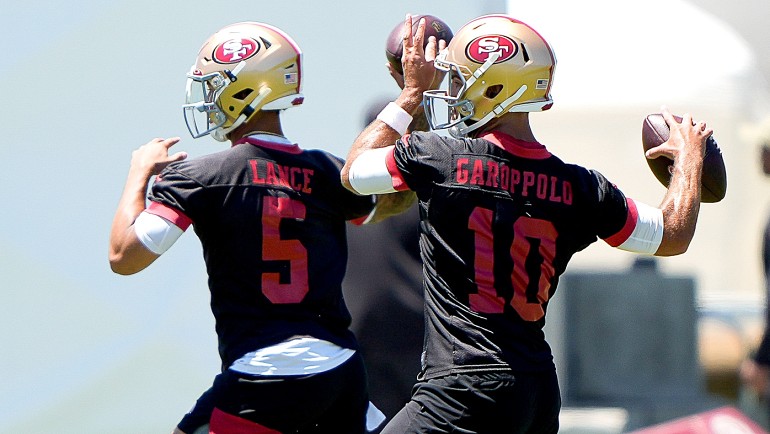 ESPN: Looming transition from Jimmy Garoppolo to Trey Lance makes 49ers playoff projections 'tenuous'
ESPN's Kevin Seifert made 10 predictions for the 2021 season. One was that San Francisco 49ers head coach Kyle Shanahan and Las Vegas Raiders head coach Jon Gruden would avoid any deserving scrutiny.
Gruden, of course, has yet to post a winning record since becoming the Raiders' head coach in 2018. On the other hand, Shanahan has taken the 49ers to a Super Bowl and was on the cusp of a championship during the 2019 season. But, of course, that was his one winning season during his four-year tenure so far.
Still, Seifert believes both coaches are probably safe. The 49ers will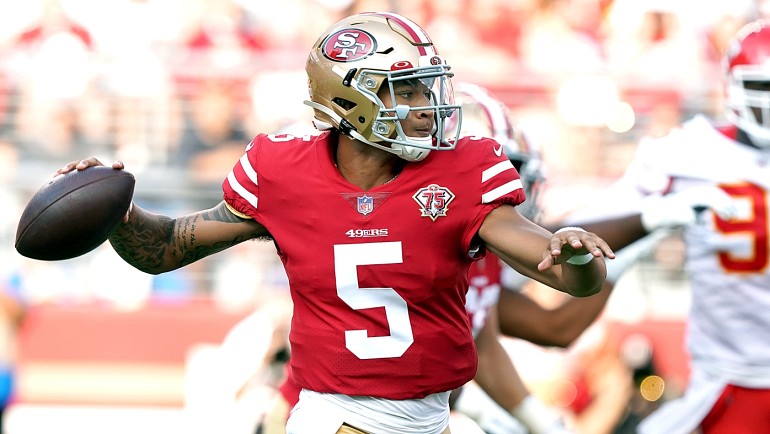 ESPN analyst believes 49ers' Trey Lance and Bears' Justin Fields could be the next Brady/Manning
The San Francisco 49ers selected Trey Lance with the No. 3 overall pick. Eight selections later, the Chicago Bears drafted Justin Fields. Both fanbases are excited about their team's respective rookie quarterbacks and what their potential means to each organization's future.
One NFL linebacker turned ESPN analyst, Sam Acho, thinks highly of both rookies. Very highly. He feels we could be embarking on a new quarterback rivalry, comparing Lance versus Fields to one of the greatest competitions in NFL history.
"Justin Fields and Trey Lance could be the next Peyton Manning and Tom Brady," Acho said this week on ESPN's First Take (h/t to