Four-star Andre Greene, one of the top receivers in the nation, had a feeling a while ago that North Carolina fit everything he wanted in a school, but he took his time to go through the process. The final piece for the Top247 receiver came during an official visit last weekend to Clemson, which allowed him to collect the last few data points before making his decision.
Upon returning from Death Valley, the Richmond (Va.) St. Christopher's standout settled on North Carolina. He announced his commitment Wednesday evening live on CBSSports HQ.
"I am going to UNC," Greene said. "Ever since I got to UNC, it felt like home. That is where my heart was. When I first got there, they rolled out the blue carpet for me and my family to walk on."
The 6-foot-3, 185-pound Greene is the No. 9-ranked wide receiver and No. 71 overall player in the industry-generated 247Sports Composite. He is the third Top 100 player to commit to the Tar Heels, and 11th (of 16 commitments) to be rated with at least four stars. It also moves the Tar Heels' recruiting class up two slots to No. 8 in the team rankings.
"UNC is just the place to be from an educational standpoint," Greene said. "From a football standpoint, they can develop me and I feel like I can be an impactful player early. The relationships I built, not only with the coaches but with the players already there…"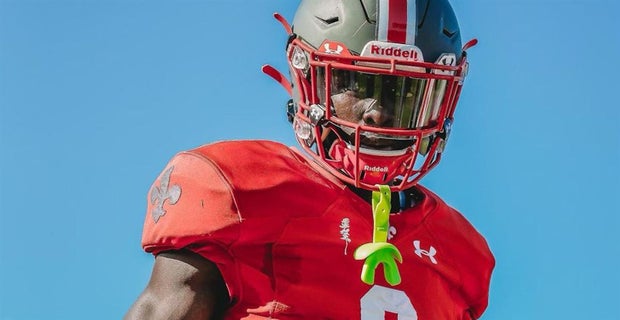 Tar Heels receivers coach Lonnie Galloway led UNC's recruiting efforts and played a significant role in Greene's decision.
"Coach Galloway probably recruited me the hardest out of every single coach," Greene said. "I talk to him every day. He talks to my grandma every day, my dad, my mom, my uncle. I just feel most wanted at UNC and I feel like he's developed a lot of great receivers, and not only at UNC. He's developed Tavon Austin and Kevin White (at West Virginia) and I've talked to those guys and they told me nothing but great things about him so I am looking forward to being developed by the best."
Also factoring into Greene's decision was North Carolina's academic prowess and alumni connections. He plans to major in business.
"That played a huge role," he said. "I go to one of the top private academic schools in Virginia, and UNC is just like it. It will be a great transition from my school to their school. They are very similar programs. It definitely played a huge role — one of the top business schools/academic schools in the country."
Greene had many national suitors throughout his recruitment, but was able to narrow down the list as he got further into the process. The backend of Greene's recruitment featured announcing a final six schools — UNC, Clemson, Georgia, LSU, Penn State and Oregon — in mid-August, before focusing in on a trio. He camped and visited Clemson and took official visits to UGa and UNC in June. In July, he returned to Clemson and Chapel Hill for cookout events. Greene kicked off the fall by attending the Clemson-Georgia defensive slugfest in Charlotte. Despite initial desires to catch many games this season, the UNC-Duke bout in Kenan Stadium was the only other game he attended.
Greene is the seventh member of North Carolina's class to hail from Virginia. He joins five-star offensive lineman Zach Rice of Lynchburg (Va.) Liberty Christian, a trio of four stars in running back George Pettaway of Suffolk (Va.) Nansemond-Suffolk, receiver Tychaun Chapman of Virginia Beach (Va.) Landstown and cornerback Tayon Holloway of Virginia Beach (Va.) Green Run, as well as edge Bryson Jennings of Midlothian (Va.) Clover Hill and offensive lineman Trevyon Green of Chester (Va.) Life Christian.
As a senior at St. Christopher's School, Greene compiled 35 catches for 676 yards and 13 touchdowns at wide out, and then added two interceptions and two pass breakups on the defensive side of the ball. When he arrives in Chapel Hill next summer, he'll be the highest-rated wide receiver to enroll at UNC in 13 years.