WHITE HOUSE CORRESPONDENT MIKE MEMOLI IS JOINING US NOW FROM HIS POST MICAH, TALK TO US ABOUT THE SANCTIONS. HOW ARE THEY FURTHER ISOLATING RUSSIA RIGHT NOW ECONOMICALLY AND POLITICALLY. >> WELL, AND WE SAW OBVIOUSLY THE WHITE HOUSE DELIVER AS PROMISED SWIFT AND SEVERE ECONOMIC SANCTIONS LAST WEEK TARGETING RUSSIAN BANKS TARGETING OLIGARCHS TRYING TO MOVE TO LIMIT THEIR ACCESS TO THAT SWISS SYSTEM. WELL, AS EXPECTED. WHITE HOUSE OFFICIALS ARE SAYING RUSSIA HAS NOW GONE TO PLAN B TRYING TO TAP INTO MORE THAN 600 BILLIONS OF DOLLARS.
THEY HAVE THROUGHOUT THE WORLD SORT OF AS THEIR INSURANCE PLAN IN FEDERAL RESERVE'S IN AN INCH IN AND AROUND THE WORLD. AND SO WHAT THE MOVES DESIGNED TO ACCOMPLISH TODAY. OUR TO LIMIT THEIR ABILITY TO CONDUCT ANY TRANSACTIONS IN ANY OF THOSE RESERVES THAT ARE IN DOLLARS YEN AND STERLING OR EUROS EFFECTIVELY ELIMINATING THEIR ABILITY TO TAKE ACTION THAT WAS DESPERATELY NEEDED TO SURE UP THEIR OWN FINANCIAL SYSTEM.
WHAT THE WHITE HOUSE IS EMPHASIZING IS THAT THEY'VE BEEN WORKING ON THIS PLAN FOR MONTHS. THEY ANTICIPATED WHAT RUSSIA WAS GOING TO TRY TO DO TAP INTO THEIR SLUSH FUND AS THEY CALL IT.
AND THAT STRATEGY REALLY HERE IS DESIGNED TO ENSURE THAT AS PUTIN CONTINUES TO ESCALATE HIS INVASION OF UKRAINE. THEY ARE PREPARED TO CONTINUE TO ESCALATE THEIR SANCTIONS ON RUSSIA'S ECONOMY. >> AND MY KIND OF WE EXPECT THIS CRISIS TO IMPACT TOMORROW'S STATE OF THE UNION. >> WELL, THERE'S NO DOUBT THAT IT WILL JUST A FEW WEEKS AGO, THE WHITE HOUSE WAS TELEGRAPHING THAT THIS WAS A STATE OF THE UNION ADDRESS. THAT WOULD BE AN OPPORTUNITY FOR PRESIDENT BIDEN SAID DEMOCRATS INTO THE MIDTERM ELECTION YEAR WITH A BIT OF MOMENTUM BY TALKING ABOUT THEIR ACCOMPLISHMENTS LIKE THE INFRASTRUCTURE LAW TALKING ABOUT INFLATION AS A REAL CONCERN THAT HE UNDERSTANDS AMERICANS ARE DEALING WITH IN LAYING OUT SOME POLICIES TO DEAL WITH IT.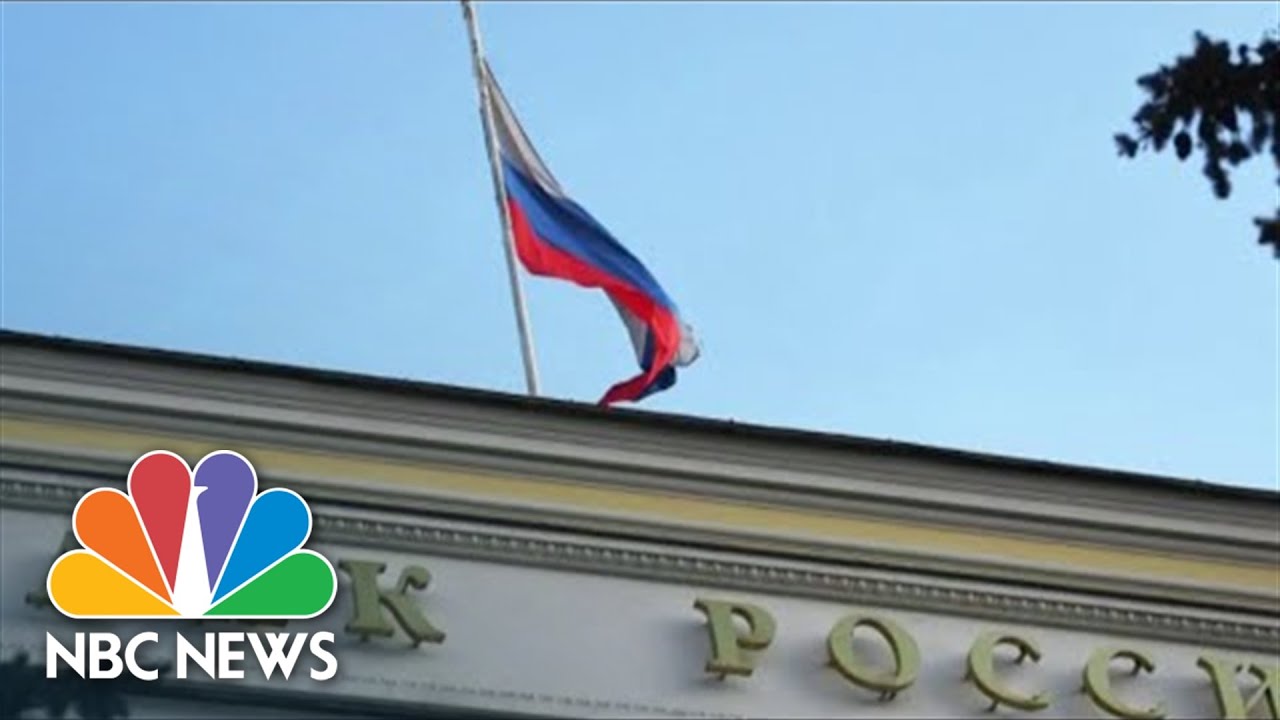 BUT AS A WHITE HOUSE OFFICIAL TOLD ME JUST LAST WEEK IN BETWEEN MEETINGS ON SANCTIONS IN BETWEEN MEETINGS ON SELECTING IN ROLLING OUT HIS SUPREME COURT NOMINEE. THE PRESIDENT WAS WORKING WITH HIS TOP POLITICAL STRATEGIST MIKE DONILON TO ESSENTIALLY REWRITE SIGNIFICANT PORTIONS OF THE ADDRESS TO DEAL WITH UKRAINE. THINK ABOUT THIS THE PRESIDENT HAS OFTEN FRAMED HIS LARGER APPROACH BOTH TO DOMESTIC AND FOREIGN POLICY HAS DESIGNED TO SHOW THAT DEMOCRACIES CAN STILL WORK THAT IN THIS BATTLE IN THE 21ST CENTURY BETWEEN DEMOCRACIES AND I'LL TALK OR SEES THAT DEMOCRACIES CAN STILL DELIVER FOR HIS PEOPLE.
AND SO THAT'S REALLY WHAT THIS SPEECH WILL NOW BE INCLUDING ADDITIONAL EMPHASIS ON AND BE LEARNING MORE ABOUT WHETHER THAT TRANSLATES INTO SPECIFIC POLICIES AS THE DAY GOES ON..
Read More: 'Sign of weakness': Ex-CIA director on Putin's move
Read More: 'Sign of weakness': Ex-CIA director on Putin's move
Read More: 'Sign of weakness': Ex-CIA director on Putin's move