RUN BY A ON TOP OF NIGHT. UP TO IT IS AT THE PODIUM. NOW MILITARY HAS BEGUN A BRUTAL ASSAULT ON THE PEOPLE UKRAINE. >> PROVOCATION WITHOUT JUSTIFICATION, WITHOUT THE NECESSITY. THIS IS A PREMEDITATED ATTACK.
VLADIMIR PUTIN PLANNING THIS FOR MONTHS AS WE'VE BEEN SAYING, ALL ALONG. HE MOVED MORE THAN A 175,000 TROOPS MILITARY EQUIPMENT POSITIONS ALONG THE UKRAINIAN BORDER. THE MOVE BLOOD SUPPLIES INTO POSITION ALL OF THE FIELD HOSPITAL. TELLS YOU ALL YOU NEED TO KNOW ABOUT HIS INTENTIONS ALL ALONG. HE REJECTED EVERY GOOD FAITH EFFORT.
THE UNITED STATES AND OUR ALLIES AND PARTNERS MADE TO ADDRESS ON DUE TO SECURITY CONCERNS THROUGH DIALOGUE TO AVOID NEEDLESS CONFLICT AND A VERY HUMAN SUFFERING. FOR WEEKS FOR WEEKS WE HAVE BEEN WARNING THAT THIS WOULD HAPPEN AND NOW LARGELY AS WE PREDICTED.
IN THE PAST WEEK WE'VE SEEN SHOWING INCREASING THE LOSS REGION IN EASTERN UKRAINE CONTROLLED BY RUSSIAN-BACKED SEPARATISTS. RUSSIAN THE RUSSIAN GOVERNMENT HAS PERPETRATED CYBER ATTACKS AGAINST UKRAINE. WE SAW STAGE POLITICAL THEATER IN MOSCOW AND MISSION BASELESS CLAIMS UKRAINE UKRAINE WAS ABOUT TO INVADE AND LAUNCH A WAR AGAINST RUSSIA.
THAT UKRAINE WAS PREPARED TO USE CHEMICAL WEAPONS. UKRAINE COMMITTED A GENOCIDE. WITHOUT ANY EVIDENCE. THE SOFT FLAGRANT VIOLATION OF INTERNATIONAL LAW, AN ATTEMPT TO UNILATERALLY CREATE 2 NEW SO-CALLED REPUBLICS. I'M SOVEREIGN UKRAINIAN TERRITORY.
AND AT THE VERY MOMENT THAT THE UNITED NATIONS SECURITY COUNCIL IS MEETING TO STAND UP FOR UKRAINE'S SOVEREIGNTY TO STAVE OFF AN INVASION DECLARED HIS WAR.
WITHIN MOMENTS MOMENTS MISSILE STRIKES BEGAN TO FALL ON HISTORIC CITIES ACROSS UKRAINE. THEN CAME THE AIR RAIDS FOLLOWED BY TANKS AND TROOPS ROLLING IN. WE'VE TRANSPARENT WITH THE WORLD. WE SHARE DECLASSIFIED EVIDENCE ABOUT RUSSIA'S PLANS AND CYBER ATTACKS AND FALSE PRETEXT.
SO THERE COULD BE NO CONFUSION OR COVER UP FOOD WAS DOING. IS THE AGGRESSOR. 2 NEW SHOWS THIS WAR. AND NOW HE AND HIS COUNTRY WILL BEAR THE CONSEQUENCES. TODAY.
I'M AUTHORIZING ADDITIONAL STRONG SANCTIONS AND NEW LIMITATIONS ON WHAT CAN BE EXPORTED TO RUSSIA. THIS IS GOING TO IMPOSE SEVERE COSTS ON THE RUSSIAN ECONOMY BOTH IMMEDIATELY AND OVER TIME. WE HAVE PURPOSELY DESIGNED THE SANCTIONS TO MAXIMIZE A LONG-TERM IMPACT ON RUSSIA AND THE MINIMIZE THE IMPACT AND THE UNITED STATES AND OUR ALLIES. WANT TO BE CLEAR. UNITED STATES IS NOT DOING THIS A LONG.
FOR MONTHS. WE'VE BEEN BUILDING A COALITION OF PARTNERS REPRESENTING WELL, MORE THAN HALF THE GLOBAL ECONOMY. 27 MEMBER EUROPEAN UNION INCLUDING FRANCE, GERMANY, ITALY AS WELL AS UNITED KINGDOM CANADA, JAPAN, AUSTRALIA, NEW ZEALAND AND MANY OTHERS TO AMPLIFY JOINT IMPACT OF OUR RESPONSE. I JUST SPOKE WITH THE G 7 LEADERS THIS MORNING AND WE'RE IN FULL AND TOTAL AGREEMENT. WE WILL LIMIT RUSSIA'S ABILITY TO DO BUSINESS IN DOLLARS EUROS, POUNDS AND TO BE PART OF THE GLOBAL ECONOMY.
LIMIT THEIR ABILITY DO THAT. WE'RE GOING TO STOP THE ABILITY OF TO FINANCE AND GROW RUSHED TO THE RUSSIAN MILITARY. WE'RE GOING TO IMPOSE MAJOR AND WE'RE GOING TO PAIR THEIR ABILITY TO COMPETE AND HIGH-TECH 21ST CENTURY ECONOMY.
WE'VE ALREADY SEEN THE IMPACT OF OUR ACTIONS ON RUSSIA'S CURRENCY. THE RUBLE.
EARLY TODAY. HIS WEAKEST LEVEL EVER EVER IN HISTORY. THE RUSSIAN STOCK MARKET KLEIN WAS TODAY. RUSSIAN GOVERNMENT BORROWING RATES SPIKE OVER 15%. TODAY'S ACTIONS.
WE'VE NOW SANCTION RUSSIAN BANKS THAT TOGETHER. HOLD AROUND 1 TRILLION DOLLARS IN ASSETS. HE CUT OFF RUSSIA'S LARGEST BANK A BANK THAT HOLDS MORE THAN ONE-THIRD OF RUSSIA'S BANKING ASSETS BY ITSELF. CUT OFF THE U.S.
FINANCIAL SYSTEM AND TODAY ALSO BLOCKING FOR MORE MAJOR BANKS. THAT MEANS EVERY ASSET THEY HAVE IN AMERICA WILL BE FROZEN.
THIS INCLUDES VTB. THE SECOND LARGEST BANK IN RUSSIA, WHICH HAS 250 BILLION DOLLARS AND ASSETS. AS PROMISED.
WE'RE ALSO ADDING NAMES TO THE LIST OF RUSSIAN ELITES AND THEIR FAMILY MEMBERS AND ARE SANCTIONING THAT WERE SANCTIONED AS WELL. AS I SAID ON TUESDAY THESE ARE PEOPLE WHO PERSONALLY GAIN FROM THE CRIMINALS POLICIES AND THEY SHOULD SHARE IN THE PAIN. WE WILL KEEP UP DRUMBEAT OF THOSE DESIGNATIONS AGAINST CORRUPT BILLIONAIRES IN THE DAYS AHEAD. ON TUESDAY, WE STOPPED THE RUSSIAN GOVERNMENT FOR RAISING MONEY FROM US FOR EUROPEAN INVESTORS. NOW WE'RE GOING TO APPLY THE SAME RESTRICTIONS TO RUSSIA'S LARGEST STATE OWNED ENTERPRISES COMPANIES WITH ASSETS IT EXCEED ONE 0.
4 TRILLION DOLLARS. SOME OF THE MOST POWERFUL IMPACTS OUR ACTIONS WILL COME OVER TIME AS WE SQUEEZE RUSSIANS ACCESS TO FINANCE TECHNOLOGY FOR STRATEGIC SECTORS OF ITS ECONOMY AND THE GREATEST INDUSTRY CAPACITY FOR YEARS TO COME. BETWEEN OUR ACTIONS AND THOSE OF OUR ALLIES AND PARTNERS. WE ESTIMATE WILL CUT OFF MORE THAN HALF OF RUSSIA'S HIGH TECH IN PORCH. STRIKE A BLOW TO THEIR ABILITY CONTINUE TO MODERNIZE THE MILITARY, DEGRADE THEIR AEROSPACE INDUSTRY, INCLUDING THEIR SPACE PROGRAM.
HARD BELIEVE THE MILL SHIPS REDUCING THEIR ABILITY TO COMPETE ECONOMICALLY. AND IT WILL BE A MAJOR HIT TO PROVE HIS LONG-TERM STRATEGIC AMBITIONS AND WE'RE PREPARING TO DO MORE. IN ADDITION TO THE ECONOMIC FAMILY'S ROOM POSEY. ALSO TAKING STEPS TO DEFEND OUR NATO ALLIES. IT'S PARTICULARLY IN THE EAST TOMORROW.
NATO WILL CONVENE A SUMMIT WILL BE THERE TO BRING TOGETHER THE LEADERS OF 30 ALLIED NATIONS. AND CLOSE PARTNERS TO AFFIRM OUR SOLIDARITY AND THE MAP OUT. THE NEXT STEPS WE WILL TAKE TO FURTHER STRENGTHEN ALL ASPECTS OF OUR NATO ALLIANCE. ALTHOUGH WE PROVIDE OVER 650 MILLION DOLLARS IN DEFENSE OF ASSISTANCE TO UKRAINE JUST THIS YEAR. LAST YEAR.
LET ME SAY IT AGAIN. OUR FORCES ARE NOT AND WILL NOT BE ENGAGED IN THE CONFLICT WITH RUSSIA IN UKRAINE. OUR FORCES ARE NOT GOING TO EUROPE TO FIGHT IN UKRAINE, BUT TO DEFEND OUR NATO ALLIES AND REASSURE THOSE ALLIES IN THE EAST.
AS I MADE CRYSTAL CLEAR UNITED STATES WILL DEFEND EVERY INCH OF NATO TERRITORY WITH THE FULL FORCE AMERICAN POWER. AND THE GOOD NEWS IS WAS MORE UNITED AND MORE DETERMINED THAN EVER.
THERE'S NO DOUBT, NO DOUBT THAT THE UNITED STATES AND EVERY NATO ALLY. WE'LL MEET OUR ARTICLE 5 COMMITMENTS WHICH SAYS AN ATTACK ON ONE IS AN ATTACK ON ALL. OVER THE PAST FEW WEEKS ORDERED THOUSANDS OF ADDITIONAL FORCES TO GERMANY AND POLAND AS PART OF OUR COMMITMENT TO NATO.
ON TUESDAY IN RESPONSE TO RUSSIA'S AGGRESSIVE ACTION, INCLUDING HIS 2 PRESIDENTS OF BELARUS AND THE BLACK SEA OF AUTHORIZE DEPLOYMENT OF GROUND AND THERE ARE FORCES ALREADY STATIONED IN EUROPE TO NATO'S EASTERN FLANK. ALLIES, ESTONIA, LATVIA LITHUANIA, POLAND AND ROMANIA.
OUR ALLIES HAVE ALSO BEEN STEPPING UP ADDING THE OTHER ALLIES REST OF NATO, ADDING THEIR OWN FORCES AND CAPABILITIES TO ENSURE COLLECTIVE DEFENSE. AND TODAY WITHIN HOURS, RUSH IS UNLEASHING ITS A SAW NATO CAME TOGETHER UNAUTHORIZED AND ACTIVATED. AN ACTIVATION RESPONSE PLANS. THE SOLON ABLE NATO'S HIGH READINESS FORCES TO DEPLOY AND WHEN AND WHERE THEY'RE NEEDED PROTECT OUR NATO ALLIES ON THE STERN BOUNDARIES OF YOUR.
AND NOW I'M AUTHORIZING ADDITIONAL US FORCES CAPABILITIES TO DEPLOY TO GERMANY AS PART OF NATO'S RESPONSE, INCLUDING SOME THE U.
S. SPACE FORCE'S THAT THE DEPARTMENT OF DEFENSE PLACED ON STANDBY WEEKS AGO. I'M ALSO SPOKE WITH DEFENSE SECRETARY AUSTIN AND CHAIRMAN OF THE JOINT CHIEFS, GENERAL MILLEY ABOUT PREPARATIONS FOR ADDITIONAL MOVES. SHOULD THAT BECOME NECESSARY TO PROTECT OUR NATO ALLIES AND SUPPORT THE GREATEST MILITARY ALLIANCE IN THE HISTORY OF THE WORLD. NATO.
AS WE RESPOND MY ADMINISTRATION IS USING THE TOOLS EVERY TOWARDS IS SUPPOSED PROTECT AMERICAN FAMILIES AND BUSINESSES FROM RISING PRICES AT THE GAS PUMP. YOU KNOW, WE'RE TAKING ACTIVE STEPS TO BRING DOWN THE COST AND AMERICAN OIL AND GAS COMPANY SHOULD NOT SHOULD NOT EXPLOIT THIS MOMENT TO HIKE THEIR PRICES TO RAISE PROFITS. YOU KNOW, IN OUR SANCTIONS PACKAGE SPECIFICALLY DESIGNED TO ALLOW ENERGY PAYMENTS TO CONTINUE. WE ARE CLOSELY MONITORING ENERGY SUPPLIES FOR ANY DISRUPTION. WE'VE BEEN COORDINATING WITH MAJOR OIL PRODUCING AND CONSUMING COUNTRIES TOWARD OUR COMMON INTEREST TO SECURE A GLOBAL ENERGY SUPPLIES.
WE'RE ACTIVELY WORKING WITH COUNTRIES AROUND THE WORLD TO ELEVATE COLLECTIVE RELEASE FROM THE STRATEGIC PETROLEUM RESERVES OF MAJOR ENERGY CONSUMING COUNTRIES.
AND THE UNITED STATES WILL RELEASE ADDITIONAL BARRELS OF OIL AS CONDITIONS WARRANT. I KNOW THIS IS OUR AND AMERICANS ARE ALREADY HURTING. I WILL DO EVERYTHING IN MY POWER TO LIMIT THE PAIN THE AMERICAN PEOPLE ARE FEELING THE GAS PUMP. THIS IS CRITICAL TO ME.
BUT THIS AGGRESSION CANNOT GO UNANSWERED IF IT DID THE CONSEQUENCES FOR AMERICA WOULD BE MUCH WORSE. AMERICA STANDS UP TO WE STAND UP FOR FREEDOM. THIS IS WHO WE ARE. HE ALSO REPEATED A WARNING I MADE LAST WEEK. IF RUSSIA PURSUES CYBER ATTACKS AGAINST OUR COMPANIES.
OUR CRITICAL INFRASTRUCTURE. PREPARED TO RESPOND. FOR MONTHS WE'VE BEEN WORKING CLOSELY WITH OUR PRIVATE THE PRIVATE SECTOR TO HARDEN CYBER DEFENSES SHARPEN OUR ABILITY TO RESPOND TO RUSSIAN CYBER ATTACKS AS WELL.
I SPOKE LAST NIGHT PRESIDENT ZELENSKY OF UKRAINE. AND I ASSURED IF UNITED STATES TOGETHER WITH OUR ALLIES AND PARTNERS IN EUROPE.
WE'LL SUPPORT UKRAINIAN PEOPLE AS THEY DEFEND THEIR COUNTRY. WE'LL PROVIDE YOU HUMANITARIAN RELIEF TO EASE THEIR SUFFERING AND THE EARLY DAYS OF THIS CONFLICT. RUSSIAN PROPAGANDA WILL KEEP TRYING TO HIDE THE TRUTH IN CLAIMS SUCCESS FIRST MILITARY OPERATION MADE UP THREAT. BUT HISTORY HAS SHOWN TIME AND AGAIN, HOUSE WITH GAINS IN TURNED TO EVENTUALLY GIVE WAY TO GRIND IN OCCUPATIONS ACTS OF MASSIVE WITH MASS CIVIL DISOBEDIENCE AND STRATEGIC DEAD ENDS.
NEXT FEW WEEKS AND MONTHS.
WE ARE TO THE PEOPLE UKRAINE. WHO KNOWS ON LEAST ARE GREAT PAIN ON THEM. BUT UKRAINIAN PEOPLE HAVE KNOWN 30 YEARS OF INDEPENDENCE. THEY'VE REPEATEDLY SHOWN THAT THEY WILL NOT TOLERATE ANYONE TRIES TO TAKE THEIR COUNTRY BACK. RICH.
THIS IS A DANGEROUS MOMENT FOR ALL OF EUROPE. FOR THE FREEDOM AROUND THE WORLD. WHO DOESN'T COMMIT AN ASSAULT ON THE VERY PRINCIPLES AND UPHOLD THE GLOBAL PEACE. NOW ENTIRE WORLD SEES CLEARLY FOOD IS COMING AND IS CRIMINALIZED ARE REALLY ALL ABOUT. THIS WAS NEVER ABOUT A GENUINE SECURITY CONCERNS ON THEIR PART.
HE WAS ALWAYS ABOUT NAKED AGGRESSION. MY STUDENTS DESIRE FOR EMPIRE BY ANY MEANS NECESSARY. BY BILLY RUSSIA'S NEIGHBORS TO COORS AND CORRUPTION. BY CHANGING BORDERS BY FORCE. AND ALL OF BY CHOOSING A WAR WITHOUT A CAUSE.
WHOSE ACTIONS BETRAYS SINISTER VISION FOR FUTURE OF OUR WORLD. ONE MORE NATIONS. TAKE WHAT THEY WANT BY FORCE. BUT IS A VISION THAT THE UNITED STATES AND FREEDOM LOVING NATIONS.
EVERY RULE POSE WITH EVERY TOOL OF OUR CONSIDERABLE POWER.
UNITED STATES AND OUR ALLIES AND PARTNERS FOR EMERGE FROM THIS STRONGER MORE UNITED, MORE DETERMINED AND MORE PURPOSEFUL. PUTIN'S AGGRESSION UKRAINE. ONE OF CAUTION, RUSSIAN DEARLY ECONOMICALLY AND STRATEGICALLY. WE WILL MAKE SURE THAT. PER EYE ON THE INTERNATIONAL STAGE.
ANY NATION COUNTIES. RUSSIA'S NAKED AGGRESSION AGAINST UKRAINE. WE'LL BE STAINED BY ASSOCIATION. THE HISTORY OF THIS OR IS WRITTEN. WHOSE CHOICE TO MAKE IT TOTALLY UNJUSTIFIED ON UKRAINE.
LOVE RUSH OR WEAKER. AND THE REST OF THE WORLD STRONGER. LIBERTY DEMOCRACY HUMAN DIGNITY. THESE ARE THE FORCES FAR MORE POWERFUL AND FEAR AND OPPRESSION. THEY CAN NOT BE EXTINGUISHED BY TYRANTS LIKE PRUDENT AND HIS ARMS.
YOU CANNOT BE RAISED BY PEOPLE IN FROM PEOPLE'S HEARTS AND HOPES ANY AMOUNT OF VIOLENCE AND INTIMIDATION. THEY INDOOR. NOT CONTEST BETWEEN DEMOCRACY AUTOCRACY. BETWEEN SOVEREIGNTY AND SUBJUGATION. MAKE NO MISTAKE, FREEDOM WILL PREVAIL.
GOD BLESS THE PEOPLE OF A FREE AND DEMOCRATIC MAY GOD PROTECT OUR TROOPS. ASSOCIATED PRESS. AT THIS POINT. AND WHAT INTERACTION HE >> I HEARD THE FIRST PART 2 PLANS TO SPEAK WITH POINT, HE FAR AS. >> AND THEY NOT WHAT?
>> WHAT'S A LARGE CONFLICT ALREADY AWAY. WE'RE GOING TO NOT GOING FIRE TO A LARGER CONFLICT IS BY PROVIDING ALL THE FORCES NEEDED IN THE EASTERN EUROPEAN NATIONS THAT MEMBERS OF NATO. NATO IS MORE UNITED THAN IT'S EVER BEEN AND I HAVE NO PLANS TO TALK TO.
WALL STREET 2 ARENA. >> MISTER PRESIDENT.
YOU DIDN'T MENTION SWIFT IN YOUR SANCTIONS THAT YOU ANNOUNCED IS THERE A REASON WHY THE ISN'T DOING THAT. IS THERE DISAGREEMENT AMONG ALLIES REGARDING SWIFT AND WEATHER. QUESTION SHOULD BE ALLOWED TO BE PART OF IT. >> THE SANCTIONS THAT WE'RE FLOWS ON ALL THE BANKS OF THE CONSEQUENCES MAY BE MORE CONSEQUENTIAL SINCE WITH NUMBER ONE. NUMBER 2, IT IS ALWAYS AN OPTION.
BUT RIGHT NOW THAT'S NOT THE POSITION OF THE REST OF EUROPE, WHICH IS TO TAKE. ABC. >> CERTAIN SANCTIONS CLEARLY HAVE NOT BEEN ENOUGH TO DETER VLADIMIR PUTIN TO THIS POINT. WHAT IS GOING TO STOP HIM. HOW AND WHEN DOES THIS END AND DO YOU SEE HIM TRYING TO GO BEYOND UKRAINE.
AND A SECOND QUESTION ON THIS. GIVE TO YOU NOW, THE STATEMENT THAT HE GAVE LAST NIGHT. WILL THAT THE WET, THE THREAT THAT HE GAVE THE WEST WILL FACE CONSEQUENCES. GREATER. THEN ANY YOU HAVE FACED IN HISTORY.
IS HE THREATENING A NUCLEAR STRIKE. I HAVE NO IDEA. >> WHAT IS THREATENING. I KNOW WHAT HE HAS DONE. NUMBER ONE.
NUMBER 2, NO ONE EXPECTED THE SANCTIONS TO PREVENT AND THEN FROM HAPPENING.
THEY ASKED THE SHOES COULD TAKE TIME. AND WE HAVE TO SHOW RESOLVE. SO HE KNOWS WHAT'S COMING. AND SO THE PEOPLE RUSSIAN KNOW WHAT HE'S BROUGHT ON THEM.
THAT'S WHAT THIS IS ALL ABOUT. THIS IS GOING TO TAKE TIME IT'S NOT GOING TO OCCUR. HE'S GOING TO SAY, OH, MY GOD. THE SANCTIONS WERE COMING. I'M GOING TO STAND OUT.
HE'S GOING TO TEST RESOLVE OF THE WEST TO SEE IF WE STAY TOGETHER AND WE WILL. WE WILL ANIMAL IMPOSE SIGNIFICANT COSTS ON HIM. WILL HE GO BEYOND UKRAINE, SIR. DO YOU SEE HIM GOING. YES.
>> 2 TOPICS JUST REALLY QUICK. FIRST, MARKETS ARE DOWN AND GAS PRICES ARE UP. I KNOW YOU ALWAYS STRESSED THE DIFFERENCE BETWEEN WALL STREET AND MAIN STREET.
BUT EVERYBODY SEEMS TO BE IN FOR SOME ECONOMIC PAIN. HOW ECONOMICALLY PAINFUL AS IT CAN GET FOR PEOPLE IN THIS COUNTRY.
AND I DO HAVE ONE MORE QUESTION. >> FIRST OF ALL, THERE'S NO DOUBT THAT WHEN A MAJOR NUCLEAR POWER. ATTACKS AND INVADES ANOTHER COUNTRY THAT THE WORLD IS GOING TO RESPOND AND MARKETS CAN RESPOND ALL OVER THE WORLD. SO THERE'S NO DOUBT ABOUT THAT. NUMBER ONE.
NUMBER 2, THE NOTION THAT THIS IS GOING TO LAST FOR A LONG TIME. IT IS HIGHLY UNLIKELY AS LONG AS WE CONTINUE TO STAY RESOLVED IN IMPOSING THE SANCTIONS WERE GOING TO IMPOSE. >> ON RUSSIA, PERIOD WAS NEXT QUESTION. I'M SORRY. >> THE NEXT QUESTION IS DID YOU UNDERESTIMATE.
AND WHICH IS STILL DESCRIBED IN THE WAY HE DID IN THE SUMMER AS A WORTHY ADVERSARY. AT THE TIME. >> HE WAS I MADE IT CLEARS AN ADVERSARY AND I SAID HE WAS WORRIED I DIDN'T UNDERESTIMATE HIM AND I'VE READ MOST OF EVERYTHING HE'S WRITTEN.
DID YOU READ THE MOTIONS ARE NOT. HE WAS THE USUALLY YOU HEARD THE SPEECH HE MADE IN ALMOST AN HOUR THROUGH SPEECHES WHY HE WAS GOING INTO UKRAINE.
HE HAS MUCH LARGER AMBITIONS IN UKRAINE. HE WANTS TO IN FACT, RE ESTABLISH THE FORMER SOVIET UNION. THAT'S WHAT THIS IS ABOUT. AND I THINK THAT HIS ARE COMPLETELY CONTRARY TO THE PLACE FOR THE REST OF THE WORLD HAS RIGHT. >> I COULDN'T THESE DEVASTATING SANCTIONS.
ARE GOING TO BE AS DEVASTATING AS RUSSIAN MISSILES AND BULLETS AND TANKS. >> YES. RUSSIAN BOARDS MISSILES AND TANKS IN UKRAINE. YES, I AM. >> IF SANCTIONS CANNOT STOP PRESIDENT WHAT PENALTY.
>> CAN I DIDN'T SAY SANCTIONS CAN STOP HIM. YOU'VE BEEN TALKING ABOUT THE THREAT OF THE SANCTIONS ARE SEVERAL WEEKS NOTICE. BUT THIS TREND OF THE SANCTIONS IMPOSING THE SANCTIONS SEEN EFFECT OF THE SANCTIONS ARE 2 DIFFERENT THINGS. 2 DIFFERENT THINGS AND NOW GOING TO HE'S GOING TO BEGIN TO SEE THE EFFECT OF THE SANCTIONS. >> AND WHAT WILL THAT DO.
HOW WILL THAT CHANGE HIS MINDSET HERE GIVEN CAN ALSO RUN WEEKEND HIS COUNTRY.
>> NOW HE'LL HAVE TO MAKE VERY, VERY DIFFICULT CHOICES ON WHETHER TO CONTINUE TO MOVE TOWARD BE A SECOND-RATE POWER OR IN FACT, RESPOND. >> YOU SAID IN RECENT WEEKS THE BIG NATIONS CANNOT BLUFF WHEN IT COMES TO SOMETHING LIKE THIS. YOU RECENTLY SAID THE IDEA PERSONALLY SANCTIONING PRESIDENT PUTIN'S ON THE TABLE IS THAT A STEP THAT YOU'RE PREPARED TO TAKE IN.
IF NOT A BLUFF, IT'S ON THE TABLE.
SANCTIONING PRESIDENT PUTIN. >> YES. WHY NOT SANCTION HIM TODAY, WHY NOT >> MISTER PRESIDENT. I CAN YOU DETAIL SOME SEVERE AND SWIFT NEW SANCTIONS TODAY AND SAID THE IMPACT IT WILL HAVE OVER TIME. BUT GIVEN THE FULL SCALE INVASION GIVEN THAT YOU'RE NOT PURSUING DISCONNECTING RUSSIA FROM WHAT'S CALLED SWIFT THE INTERNATIONAL BANKING SYSTEM OR OTHER SANCTIONS AT YOUR DISPOSAL.
RESPECTFULLY, SIR, WHAT MORE ARE YOU WAITING FOR. >> SPECIFICALLY WITH THE SANCTIONS WE'VE IMPOSED EXCEEDS SWIFT THE SANCTIONS. WE OPPOSE EXCEED ANYTHING. IT'S EVER BEEN DONE. THE SANCTIONS WE IMPOSED GENERATED 2 THIRDS OF THE WORLD.
JOINING US. THEY ARE FOUND SANCTIONS. LET'S HAVE A CONVERSATION ANOTHER MONTH OR SO TO SEE IF THEY'RE WORKING. YEAH, THAT'S ABOUT TO LET SERIOUS BLOW TO VLADIMIR ZELENSKY YESTERDAY WHAT'S THE RISK THAT? >> WE ARE WATCHING THE BEGINNING OF ANOTHER COLD WAR.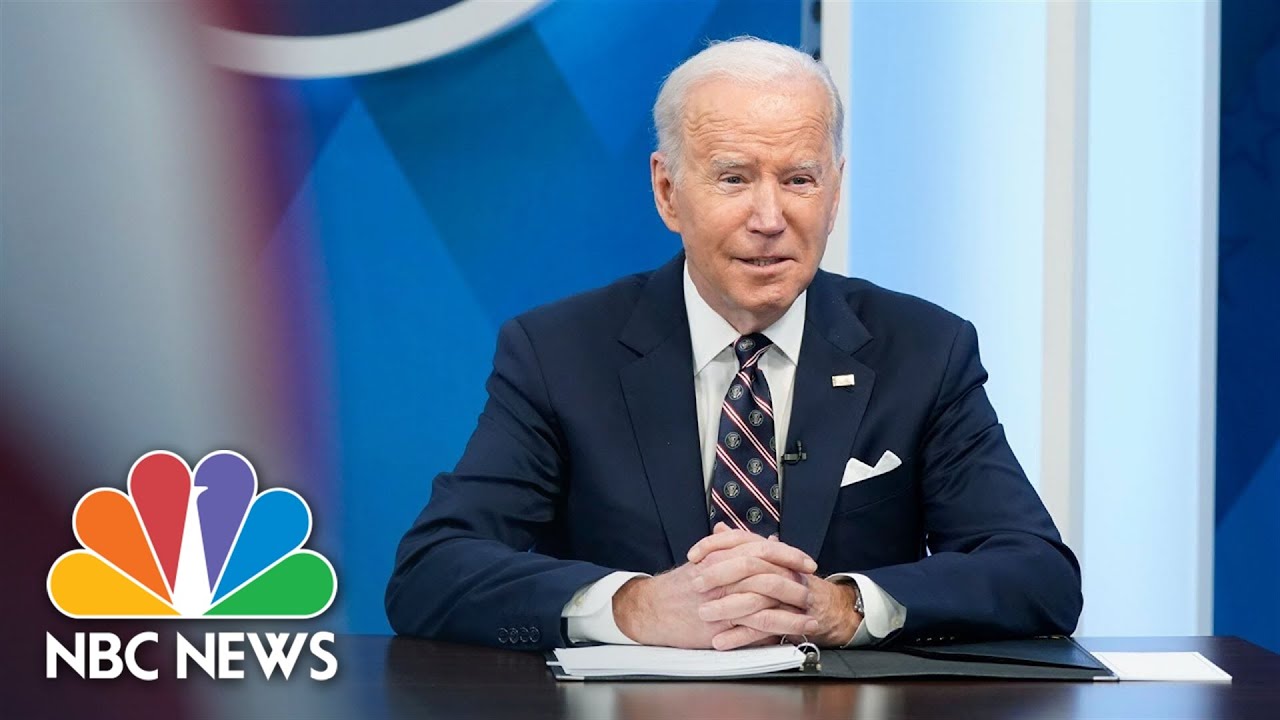 AND IS THERE NOW A COMPLETE RUPTURE IN US AND RUSSIAN RELATIONS. >> THERE IS A COMPLETE RUPTURE RIGHT NOW IN U.S.
RUSSIAN RELATIONS. IF THEY CONTINUE ON THIS PATH WITH IRAN AND IN TERMS OF A COLD WAR THAT DEPENDS YOU HAVE THE VAST MAJORITY OF THE REST OF THE WORLD AND TOTAL OPPOSITION.
WHAT HE'S DOING FROM TO SOUTH AMERICA, TOO EUROPE TO CRAWL AROUND THE WORLD AND SO IS GOING TO BE A COLD DAY FOR RUSSIA. THE IDEA YOU DON'T SEE A WHOLE LOT OF PEOPLE COMING TO HIS DEFENSE. >> AND ARE FOLLOW-UP, ARE YOU URGING CHINA TO HELP ISOLATE RUSSIA. ARE YOU URGING CHINA TO HELP ISOLATE RUSSIA. >> I'M NOT PREPARED TO COMMENT AND THAT THE ♪ NO, NO, NO.
HE'S HAD HIS HAND UP ON TIME. THANK YOU, MISTER PRESIDENT. HOW CONCERNED ARE YOU PUTIN WANTS TO GO BEYOND UKRAINE INTO OTHER COUNTRIES IN THE U.S. WILL HAVE TO GET INVOLVED IF HE MOVES INTO NATO COUNTRIES.
DID MOVE IN A NATO COUNTRIES. HE WILL BE INVOLVED. WE WILL BE INVOLVED. THE ONLY THING THAT I'M CONVINCED OF IS IF WE DON'T STOP NOW, HE'LL BE A MOMENT.
>> IF WE DON'T MOVE AGAINST HIM NOW WITH THESE SIGNIFICANT SANCTIONS.
HE WILL BE A MOMENT A YOU KNOW, WELL. I >> ANYTHING MORE ABOUT ♪ >> SO I CAN'T HEAR YOU. SO WE DID TO ME THAT DEFENSE BACH KNOW THEY'RE NOT THE STATES. >> HE IN THE EYE WITH FULLY WITH YOU ON THE SHOW. IF YOU CREATED A SHARE.
DOES THE DEFENSE DEPARTMENT, UNITED AND INDIA IS ONE OF THEM IS THEIR DEFENSE PARTNERS IS INDIA FULLY IN SYNC WITH UNITED STATES ON ON RUSSIA. >> WE'RE GOING TO BE WEARING CONSULTATION WITH WITH INDIA TODAY. WE HAVEN'T RESOLVED THAT COMPLETE ♪ >> TRUST COLLEAGUES. CERTAINLY A HUNGRY FOR QUESTIONS AND ANSWERS AND A LOT OF FRANKLY 2 TO GO THROUGH HERE. THE PRESIDENT ADDRESSING THE NATION ONE MORE TIME ANNOUNCING A WHOLE NEW ROUND OF OF SANCTIONS.
HE CALLS THEM SIGNIFICANT SANCTIONS THAT WILL MAKE IT DIFFICULT DESIGNED TO MAKE IT DIFFICULT FOR RUSSIA TO OPERATE IN THE MARKETPLACE AND MAKE FINANCIAL TREND THAT TRANSACTIONS ACROSS THE WORLD.
THEIR EXPORT LIMITATIONS. THE PRESIDENT TALKING ABOUT THINGS THAT WOULD MAXIMIZE THE LONG-TERM IMPACT ON RUSSIA. THE PRESIDENT ADDRESSING THE NATION AFTER MEETING WITH G 7 LEADERS SUGGESTING THERE'S NOT A LOT OF DAYLIGHT BETWEEN THE MOVING RUSH OUT OF THE SWIFT BANKING SYSTEM IMMEDIATE AREA THAT ALLOWS BANKS TO TRANSFER FUNDS BETWEEN EACH OTHER THAT NECESSARILY DOESN'T HAVE THE FULL SUPPORT OF ALLIES. BUT HE SAYS THE SANCTIONS THEY'VE ANNOUNCED EXCEED MOVING AGAINST.
THAT'S WITH MEMBERSHIP IN SPRING. NBC NEWS CHIEF WHITE HOUSE CORRESPONDENT KRISTEN WELKER. CHRIS, AND I JUST CHECKED OFF A COUPLE OF THE HEADLINES HERE, A LOT PACKED INTO THIS BRIEFING.
>> THERE IS A LOT TO UNPACK LESTER. AND I THINK THAT YOU HIT SOME OF THE BIG HIGHLIGHTS HERE.
LET'S TALK ABOUT WHAT HAPPENED AND WHAT DIDN'T HAPPEN PRESIDENT BIDEN ANNOUNCING STRONG NEW SANCTIONS AGAINST SOME OF THE LARGEST FINANCIAL INSTITUTIONS IN RUSSIA THAT ON TOP OF THE SANCTIONS THAT HE ANNOUNCED AGAINST FINANCIAL INSTITUTIONS EARLIER THIS WEEK. HE ALSO ANNOUNCED THAT THEY ARE TARGETING DELETE ALL OF ARC'S WHO ARE CLOSE TO VLADIMIR PUTIN. ALL OF THIS WILL HAVE AN IMPACT ON CLINTON HIMSELF AND HE ANNOUNCED NEW SANCTIONS ON EXPORT CONTROLS.
THAT IS SOMETHING THAT COULD IMPACT RUSSIA'S AEROSPACE AND DEFENSE SYSTEM. SO THE PRESIDENT MAKING THE CASE, LOOK, THESE ARE ROBUST.
THEY ARE IN CONSULTATION WITH OUR ALLIES AND PARTNERS. AND SO THEY WILL BITE. BUT WHAT HE DIDN'T DO, WHAT YOU UNDERSCORED LESTER AND WHAT PETER PRESSED, THE PRESIDENT ON WHY NOT KICK RUSSIA OUT OF SWIFT RIGHT NOW. THIS IS SOMETHING THAT DEMOCRATS AND REPUBLICANS HAVE BEEN CALLING FOR.
AND HE SAID THAT, LOOK, THERE HAS BEEN DISAGREEMENT AMONG SOME OF THE EUROPEAN ALLIES ABOUT TAKING THIS STEP WHY?
BECAUSE THEIR ECONOMIES ARE SO INTERTWINED WITH RUSSIA AND THEY'RE CONCERNED THAT ULTIMATELY IT COULD HURT THEIR ECONOMIES AS WELL. SO THAT IS SOMETHING THAT THEY CONTINUE TO GRAPPLE WITH. I THOUGHT IT WAS SIGNIFICANT THAT YOU HEARD THE PRESIDENT DEFEND HIS STRATEGY AND SAY THAT WHAT IS STILL ON THE TABLE. HIMSELF HE IS GETTING A NUMBER OF CALLS TO SECTION HIMSELF AGAIN FROM DEMOCRATS AND REPUBLICANS. ADAM SCHIFF SAYING OVERNIGHT WHAT IS THE PRESIDENT WAITING FOR.
WHY NOT DO THIS NOW. HE'S OF COURSE A TOP DEMOCRATS AND REPUBLICANS HAVE FOR WEEKS BEEN CALLING ON THE PRESIDENT TO GET TOUGHER. SO YOU REALLY HEARD HIM DEFEND WHY HE BELIEVES THE STRATEGY IS WORKING. HE SAYS IT'S NOT A DETERRENT, BUT ULTIMATELY ULTIMATELY HE THINKS IT WILL HAVE AN IMPACT AND THEN FINALLY LESTER, I WOULD JUST NOTE THAT HE BRACED AMERICANS FOR MORE PAIN AT THE PUMP.
AND WHEN IT COMES TO INFLATION WITH PRICES RISING ON EVERYTHING FROM GAS TO GROCERIES LESS SERVICE IN THANKS.
THE PRESIDENT ALSO NOTING A MOVEMENT OF MORE US FORCES IN 2 DIFFERENT PARTS OF EUROPE STRESSING THAT AMERICANS WILL NOT BECOME INVOLVED. >> ON THE GROUND IN UKRAINE, BUT THEY CONTINUE TO WANT TO BOLSTER NATO ALLIES AND DETER RUSSIAN FROM MOVING BE ON UKRAINE. RIGHT NOW. WE KNOW THAT THERE ARE REPORTS OF FIGHTING AND ATTACKS VIRTUALLY ACROSS THE WHOLE OF UKRAINE BY RUSSIAN FORCES. AERIAL ATTACKS AS WELL AS ON THE GROUND.
THERE HAVE BEEN REPORTS OF CASUALTIES ON BOTH SIDES. JOINING US NOW FROM MOSCOW IS NBC NEWS SENIOR INTERNATIONAL CORRESPONDENT KEIR SIMMONS. KEAR. YOU HAVE TO WONDER IF SLIGHT IMPROVEMENT THERE ALREADY BAKED IN THE PAIN AND THE COST OF THE SANCTIONS. WHAT'S THE REACTION THERE?
>> WELL, THE CRIME THAT WOULD HAVE BEEN NOT WATCHING CLOSE THE I HEARD SOME RUSSIAN BANKS NAMED THAT BY THE PRESIDENT BTB BANK, FOR EXAMPLE, THAT ALL CRUCIAL TO THE RUSSIAN ECONOMY. SO CLEARLY THAT WILL HAVE SOME IMPACT.
THAT BEING SAID, THAT ISSUE THAT A CUSTOM WAS TALKING ABOUT THERE ABOUT WHETHER RUSSIA WILL BE REMOVED FROM THE SWIFT SYSTEM I THINK THE KREMLIN WILL PAY ATTENTION TO THOSE REMARKS FROM THE PRESIDENT THAT THAT DOES APPEAR TO BE SOME KIND OF A GAP BETWEEN THE IN WASHINGTON I'M THE VIEW IN EUROPE. THE PRESIDENT WILL BE LATCHED ON TO THAT. I THINK THAT'S ONE ISSUE ANOTHER ISSUE, THOUGH, TONIGHT, ESTA IS EXACTLY HOW MUCH DOES PRESIDENT UNDERSTAND AND KNOW WHAT IS HE BEING TOLD BY HIS ADVISERS.
WE SAW HIM ADJUSTED A MEETING WITH BUSINESS LEADERS AND THAT'S THAT HE TOLD THEM RUSSIA REMAINS A PART OF THE GLOBAL ECONOMY. WE'RE NOT GOING TO DAMAGE THE SYSTEM OF THE WORLD ECONOMY AND WHICH WE OURSELVES EXIST. IT RAISES THE QUESTION AND THIS IS A QUESTION THAT MANY ARE ASKING THAT IN A AROUND PRESIDENT THEY GIVING HIM THE ADVICE THAT HE NEEDS OR ARE THEY GIVING HIM. THAT WAS THE ADVICE THAT HE WANTS TO HEAR. WE SAW JUST THIS WEEK, PRESIDENT DRESSING-DOWN A SENIOR AND DECADES, A FORMER MEMBER OF THE KGB.
WHEN YOU THINK ABOUT THE WAY PRESIDENT PREACHING TREATS EVEN HIS INNER CIRCLE. AGAIN, IT'S RAISING THIS QUESTION AS THIS A PLAYS OUT IN UKRAINE. REMEMBER, PRESIDENT IS MAKING ALL OF THE DECISIONS HERE. OTHER PEOPLE AROUND HIM TELLING HIM EXACTLY WHAT HE NEEDS TO KNOW. ARE THEY GIVING HIM A ROSY PICTURE OF HOW THIS MAY PLAY OUT.
I THINK THAT IS A QUESTION FOR THE CONFLICTS AND IT'S A QUESTION FOR THE ECONOMIC PICTURE, TOO. AS PEOPLE HERE IN MOSCOW. THAT'S THE GOING TO THE BANKS TODAY TO TRY TO WITHDRAW DOLLARS BECAUSE OF THE CRUSHING CURRENCY HERE IN RUSSIA. THAT'S THE CURSE SIMMONS. THANK VERY MUCH.
AN ECONOMIC BATTLEFIELD.
I'M IN A REAL BATTLEFIELD CERTAINLY IN UKRAINE RIGHT NOW. THAT'S WHERE NBC NEWS CHIEF FOREIGN CORRESPONDENT. >> RICHARD ENGLE JOINS US. RICHARD, YOU'RE MOVING INTO ANOTHER NIGHT.
WHAT ARE YOU HEARING? WHAT ARE YOU SEEING? WHAT YOU EXPECT. >> SO AS AS WE WERE TALKING EARLIER BEFORE THE PRESIDENT CAME THERE HAD BEEN SPECULATION BEFORE THIS BIG AND THAT PUTIN MIGHT TAKE A SMALL OPTION THAT HE MIGHT JUST TAKE A PIECE OF UKRAINE, POTENTIALLY A PIECE RUSSIA ALREADY HELD THE SEPARATIST-HELD AREA.
BUT WHEN WE WOKE UP THIS MORNING WHEN WE WOKE UP TO THE NEWS THAT THE THE WAR WAS BEGINNING.
IT WAS CLEAR THAT THIS WAS A TOTAL RUSSIAN FORCES FIRST BEGAN WITH AIR STRIKES AND THEN THEY MOVED IN FROM THE SOUTH, FROM THE NORTH, FROM THE EAST AND INITIALLY THROUGHOUT MOST OF THE DAY THEY WERE TARGETING MILITARY TARGETS. THEY WERE TARGETING. AIRPORT AIR RADAR INSTALLATIONS. BUT NOW AS AS WE'RE APPROACHING NIGHT TO OR THE SECOND PERIOD OF DARKNESS OF THIS, OF THIS CONFLICT OF THAT, THOUGH, IT SEEMS THAT THE RUSSIAN FORCES WHO'VE POPE POURED INTO THIS ON TANKS ARE MAKING THEIR WAY TOWARD POPULATION CENTERS STILL IN THOSE 3 DIRECTIONS, ONE FROM THE SOUTH ONE FROM THE EAST AND ANOTHER FROM THE NORTH AND THE THE THE 3 PRIMARILY OTHER MAIN CITIES HERE IN THE SOUTH, INCLUDING MARIO PULL CAR KEVE IN THE EAST AND THE CAPITAL OF KIEV.
AND THERE ARE GREAT CONCERNS ABOUT WHAT WILL HAPPEN WHEN RUSSIAN TROOPS REACH THE CITY.
RUSSIAN TROOPS ARE ALREADY RIGHT NOW. APPROACHING SOME OF THE OUTER AREAS OF KIEV AFTER HAVING TAKEN AN AIRFIELD TO THE NORTH OF THE CITY. SO I THINK WE'RE AT INFLECTION POINT RIGHT NOW WHERE THE FIRST PHASE OF THIS OPERATION WAS TO BLUNT THE UKRAINIAN MILITARY AND THEN THE NEXT MIGHT BE TO EITHER PRESSURE, THE CITY'S OR OCCUPY THE CITIES WITH THE GOAL OF TOPPLING THE GOVERNMENT. AND FINALLY, I THINK ONE THING THAT THAT THAT STRUCK OUT TO LISTENING TO PRESIDENT BIDEN. WAS THAT HE'S ANTICIPATING THAT BASED ON WHAT HE WAS SAYING THAT THIS COULD BE A PROLONGED CONFLICT FOR RUSSIA THAT EVEN AFTER THE MILITARY IS POTENTIALLY A NO LONGER ABLE TO PUT UP A FACE-TO-FACE FIGHT BECAUSE THE RUSSIAN MILITARY HAS AN SUPERIORITY THAT THERE WILL BE A PERIOD OF WEEKS OR MONTHS.
HE SAID WHEN YOU COULD SEE CIVIL UNREST WHEN THERE WILL BE A RESISTANCE MOVEMENT IN THIS COUNTRY AND THAT IS THAT WOULD BE AND AFGHANISTAN LIKE EXPERIENCE THAT BOTH THE UNITED STATES AND RUSSIA RICHARD ANGLE INSIDE UKRAINE.
RICHARD, THANK YOU VERY MUCH. ANOTHER HEADLINE FOR THE PRESIDENT'S REMARKS. WE SHOULD POINT OUT. >> IS THE PRESIDENT SAYING THE U.
S. IS PREPARED TO RESPOND TO ANY CYBER ATTACKS THAT RUSSIA MAY LAUNCH THIS WAY IN RETALIATION FOR THOSE NEW SANCTIONS. I WANT TO BRING IT. NBC NEWS NATIONAL SECURITY AND MILITARY AFFAIRS CORRESPONDENT COURTNEY COULD BE. IT WAS AT THE PENTAGON.
COURTNEY, WHAT WE DON'T REALLY HAVE A PICTURE OF THIS GIANT BATTLEFIELD. THIS IS A HUGE COUNTRY.
WE'RE TALKING ABOUT SOMEWHERE, I GUESS CLOSE TO THE STATE OF TEXAS. BUT WHAT DO WE KNOW ABOUT ALL THOSE FORCES WE'VE BEEN WATCHING GATHER OVER THE WEEKS AND MONTHS. THE TANKS, THE THE AMPHIBIOUS POTENTIAL AIRBORNE TROOPS.
BUT WHAT WE KNOW ABOUT THEIR DISPOSITION AND WHAT'S HAPPENING ON THE GROUND. >> SO WE KNOW THAT THEY HAVE BEEN A RAID ALL AROUND. UKRAINE'S, YOU KNOW, REALLY SURROUNDING IT ON NEARLY ALL SIDES FOR A MATTER OF WEEKS NOW. AND IT'S NOT JUST A TREMENDOUS NUMBER FORCES THERE. WE'VE HEARD EVERYWHERE FROM 175 TO A 190,000 TOTAL RUSSIAN FORCES THERE.
BUT IT'S REALLY THE CAPABILITIES THAT HAVE GOTTEN US OFFICIALS AND DEFENSE OFFICIALS I'VE SPOKEN WITH, THEY'RE REALLY CONCERNED ABOUT AMONG THOSE CAPABILITIES THAT THEY'RE WORRIED ABOUT OUR CRUISE MISSILES. NOW, WE'VE ALREADY SEEN VLADIMIR PUTIN UNLEASH SOMEWHERE IN THE NEIGHBORHOOD OF 100 MISSILES ON UKRAINE IN JUST THIS OPENING SALVO.
IN ADDITION TO THAT, HE USED 75 MILITARY PLANES. THAT'S FIXED WING BOMBERS FIGHTER ATTACK AIRCRAFT ON A NUMBER OF AIR STRIKES. AND AND WE SHOULD POINT OUT THAT WAS ALL OVER THE COUNTRY WAS NOT JUST IN THE WHILE IT WAS CONCENTRATED MAINLY IN THE EAST.
IT WAS ALL OVER THE COUNTRY. SOME OF THE TARGETS INCLUDED AND MILITARY DEFENSES. BARRICK'S AMMO DEPOTS. AIRFIELD TAKING OUT CRANE IN MILITARY AIRCRAFT. SO FAR, DEFENSE OFFICIALS DON'T HAVE ANY ASSESSMENT ON CASUALTIES.
CIVILIAN A UKRAINIAN MILITARY OR EVEN RUSSIAN MILITARY, BUT THEY ARE WATCHING THAT. THAT'S SOMETHING THAT THEY'RE TRYING TO GET A BETTER SENSE OF IT SEEMS AS IF WHAT WE SAW HAPPEN OVERNIGHT, LESTER WAS SORT OF THE VERY OPENING BEGINNING PART OF THIS MILITARY. KINETIC PHASE OF THIS MILITARY CAMPAIGN.
WHAT THAT MEANS IS THE DEFENSE OFFICIALS ARE CONCERNED THAT THIS IS REALLY JUST THE BEGINNING WHAT WLADIMIR PUTIN HAS PLANNED AND UKRAINE. THEY EXPECT TO SEE MORE CREWS SHORT RANGE MEDIUM RANGE BALLISTIC MISSILE STRIKES IN THE COMING HOURS AND DAYS.
ONE OF THE CONCERNS IS THAT VLADIMIR PUTIN MAY DECIDE TO TO GO AFTER SOME UKRAINIAN A CIVILIAN POPULATION CENTERS AND WHAT THAT MEANS IS IN THE EFFORT TO GO AFTER BOTH UKRAINIAN MILITARY AND UKRAINIAN GOVERNMENT INFRASTRUCTURE. SOME OF THOSE ARE LOCATED WHERE UKRAINIAN CIVILIANS ARE LIVING. THERE'S VERY REAL CONCERN THAT THAT COULD LEAD TO CASUALTIES AMONG CIVILIANS IN THE COMING DAYS AND WEEKS AHEAD. THAT'S SOMETHING THAT WE'RE WATCHING FOR DESPITE THE FACT THAT IT DOESN'T SEEM AS IF THERE'S ONGOING CRUISE MISSILE AIR STRIKES RIGHT NOW THERE IS A VERY REAL BELIEF ACCORDING TO A U.S.
MILITARY ASSESSMENT THAT THOSE ARE STILL GOING TO BE ONGOING IN THE COMING DAYS. LESTER AND COURTNEY, ONE OF THINGS WE TALKED ABOUT PRIOR TO THE ATTACK WAS IN RUSSIA WOULD LIKELY DO SOME KIND OF ELECTRONIC WARFARE TO SET CENTRALLY PUNCH THE LIGHTS OUT.
>> YOU KNOW THAT WHEN I WAS TALKING TO RICHARD, THE LIGHTS WERE ON AND HE HAD COMMUNICATIONS. WHAT WE KNOW ABOUT THAT. >> YEAH, THAT'S RIGHT.
SO ONE OF THE U.S. AND THE ASSESSMENT AMONG THE U.S. MILITARY WAS THAT THERE WOULD BE A LARGE SCALE CYBER AND ELECTRONIC WARFARE CAMPAIGN IN ADVANCE OF THIS KINETIC PHASE.
WE DID SEE SOME CYBER ATTACKS. BUT THE ELECTRONIC WARFARE, THE JAMMING DIDN'T REALLY MATERIALIZE A SENIOR DEFENSE OFFICIAL SAID IT'S NOT OUTSIDE THE REALM OF POSSIBLE THAT THAT WILL STILL HAPPEN.
BUT WHAT'S INTERESTING IS WE ACTUALLY SAW THAT MATERIALIZED. THE FACT THAT THEY DIDN'T USE THAT JAMMING IN A WIDESPREAD MANNER. WE SAW REALIZE AND HOW THE UKRAINIAN MILITARY WAS ABLE TO RESPOND AND DEFEND AGAINST THIS SESSNT.
WAS THAT IF TH USTH JAMMING IN THE CYBER IT WLD RLLY DECENTRALIZE THE UKRAINN LITARY SPONSE OR THEIR DEFENSE BECAUSE EYHE RUSSIANS DIDN DTHAT UKRAINIAN MILITARYS ACTUALLY ABLE MOUNT ARETTY STABLE AND ROSTESPONSE TTHE RUSSIAN OFFENSES OVEIGHT. THE QUESTION IS WILL RUSA S TH A THEN RESPOND WITH JAMMG IN THE CONGAYS. OULD ALSO POINT T E LEICESR. YOU KNOW, WHEARD A TTLE BIT FROM PRESIDT BIDEN ABOUT SOME ADDIONAL US TROOP DEPLOYNTWILL SEE DEFENSE OFFICIS NOW SAYING THAT PREDENT THE AT TH PRESENS DIRECTION SECRETARY AUSTINAS AUTHORIZED 7,000ORU.S TROOPS TO MO FORWARD TO GERMANY T COMINGAY THESE WILL MOST LIKELYE US EITHER F AITIONAL UNILATERAL DEPLOENT INTO THE BALTIC AREA ARE PONTIALLY IF THE NATO RESPONSEFOE IS ACVATED.
ALL RIGHT. COUREY BEA LOT OF INFORMATION THERE FROMHEENTAGON. THANK YOU. WANT TOO NBC NEWS NATIONAL SECURELY SECURITY ANALYST EREMY BASH. JERY, GIVE YOUR ASSESSMENT OF WRE THINGS STAND RIGHT NOW AND WHERE THEY MAY GO BED OWHAT THE PRESIDENT LAIDUT.
>> WELL, YESTERDAY LESTE 40ILLI UKRAINIAN CITIZENS WEREIVING IN DEMOCRA AND TODAY THEY'RE LIVING UND RUIAN OCCUPATION. SO E PRESENT'S VERY MUSCULAR DETERMINE SPEECH. I LD OUT ACTLY WHAT'S AT STAKE. IT'S NOT ONLY ABOUT POSING ECONOMIC STS ON THE RUSSIAN FEDETION WHICH TODAS ANNOUNCEMENTS WILL DO. BUT ALSO THE PREDENT SAID THAT PUTIN'S BITIONS GO BEYOND UKRAE.
HE WANTS TO ESTABLISH THE SOVIET EMPIR ANHE PRESIDENTAID THE UNITED STATES OF AMERICA IS FULLY COMMITTETO STOPPING THAT FROM HAPPENIN SO LEICESTER TODAY. I THINK, YOU KNOW, IT'S A CONSEQUENTIAL DAY BECAUSE THE POST COLD WAR ERA DEFINIVELY OVER AND TH PRIDENT TODAY MADE CLEAR THE UNED STATES IS GOING TO OPPOSE T RUSSIAN FEDERION OF VLADIMIR PUTINITS EFFORT TO REESTABLISTHAT EMPIRE. WELL, ME STOP YOU THERE THAT THAT THE RUSSIANS ARE IN UKRAINE. THE PRESIDENDIDN'T SEEM TO OFFER ANY ID THAT THE SANCTIONS WAS SUDDENLY KE THESE TANKS TURN AROUND, GO THE OTHER WAY. >>O IS ALL THIS REALLY AIMED AT PROTEING NATO NOW BASICALLY SAYING YOU CROSS THIS LINE, YOU GOT AWAY WITH IT.
YOU DON'T GET CROSS THE NEXT LINE WHICH WOULD PUT YOU IN DIRECT CONFLICT WITH NATO AND THE U.. >> DEFINITIVY LAST YEAR.
WE'RE DRAWING A LINE OF THE NATO ARTICLE 5 COUNTRIES, THOSE COUNTRIES THAT WE ARE DUTY BOUND UNDER OUR MUTUAL TREE TO DEFEND. B I THINK ALSO THE SANCTIONS AR DESIGNED TO RAISEHE FO.
I THINK OVER TIME THROH ARMING THE UKRAINIANS WERE GOING TO POSE A COST HOPEFUY TRY OUT EVENTUALLY. BUT I DON'T THINK ANYBODY IS UNDER ANY ILLUONS AND THE PRESIDENT SEEMED PRET CLEAR. I THIS GOING TO GO ON F A LONG TIME. RUSSIA WILL BE INKRAINE, BUT THEY'RE GOING TO PAY A VERY HEAVY PRICE. JEREMY BASH, THANK YOU.
THECONOMIC FALLOUT OFHE OVERSEAS ATTACKS ALREADY HITTING HOME HERE IN THE U.S.. >> FROM THE MARKETS GAS PRICES NBC NEWS SENIOR BUSINESS ANALYST STEPHANIE RHULJOINS ME WITH THAT 70 PRESIDENT POINTED OUT THAT IT'S IT'S NATURAL.
IT'S EXPECTED THAT SOME KIND OF LARGE WORLD EVENT LIKE THIS WOULD ROCK THE MARKETS.
IS THIS ONE FOLLOWING HIM IN HISTORICAL EXPECTATIONS OR OR SOMETHING MORE. WE SHOULD BE ALARMED ABOUT ABSOLUTELY. ANY HUGE DEVELOPMENT, ANY BIG DISRUPTION IS GOING TO CREATE VOLATILITY IN THE MARKETS AND THE MOST IMPORTANT THING TO REMEMBER. INVESTORS LIKE PREDICTABILITY LEFT LEICESTER. THEY WANT TO KNOW IF IT'S GOING TO RAIN OR BE SUNNY TOMORROW AND A VERY CLEAR MESSAGE FROM THE PRESIDENT.
WE DON'T KNOW PUTIN IS GOING TO DO BUT AS THE PRESIDENT SAID, HE HAS HIS SIGHTS SET BEYOND UKRAINE. AND THAT'S WHY YOU SEE INVESTORS PULLING OUT BECAUSE IT'S VERY UNPREDICTABLE WHAT WE'RE GOING TO GET OUT OF PUTIN'S ONE THING WE HEARD OVER AND OVER. >> PEOPLE ARE ASKING THE PRESIDENT WHY NOW SHUTDOWN SWIFT THE UNITED STATES GOVERNMENT DOESN'T CONTROL SWIFT, RIGHT. IT'S BASICALLY AN E-MAIL SYSTEM. IT CONTROLS.
THOUSANDS AND THOUSANDS OF FINANCIAL INSTITUTIONS OVER 200 COUNTRIES.
IT'S NOT LIKE THE U.S. GOVERNMENT. YOU CAN JUST TURN IT OFF.
SOMETHING NOTABLE THAT MEETING VLADIMIR PUTIN HAD WITH ALL OF THOSE RUSSIAN OLIGARCHS, PAY ATTENTION TO WHO THEY ARE BECAUSE WE SAY ALL THE TIME, PUTIN DOESN'T CARE IF HIS ECONOMY SUFFERS ABOUT THE RUSSIAN PEOPLE. HE CARES ABOUT THOSE OLIGARCHS. MANY OF THEM ARE THE ONES WHO CONTROL THOSE BANKS THAT ARE GETTING SANCTIONS. ALL RIGHT. THANK YOU, STEPHANIE.
THAT CONCLUDES OUR SPECIAL REPORT. >> AND RUSSIA'S ATTACK ON UKRAINE. WE CONTINUE TO FOLLOW THIS STORY. AND OF COURSE AS EVENTS WARRANT MORE POP RIGHT BACK ON THE YEAR WITH THE VERY LATEST. OF COURSE, A COMPLETE WRAP UP WHEN I SEE YOU A BIT LATER ON NBC NIGHTLY NEWS.
I'M LESTER HOLT IN NEW YORK AND .
Tired of sharing your long URL or link, Well worry no more. Slitly will take care of that.
Slitly is a Free and Premium Shorten URL Service to Boost Your Online Business. Get Access Now.
Read More: 'Sign of weakness': Ex-CIA director on Putin's move
Read More: 'Sign of weakness': Ex-CIA director on Putin's move
Read More: 'Sign of weakness': Ex-CIA director on Putin's move