DOWNLOADING THE FREE WGN NEWS AND WEATHER APPS. >> LOURDES DUARTE: NOW BACK TO OUR TOP STORY TODAY. PRESIDENT BIDEN LEVELS ANOTHER BATCH OF FINANCIAL SANCTIONS AGAINST RUSSIA FOR ITS INVASION OF UKRAINE. AND THE PRESIDENT ALSO ANNOUNCING ABOUT 7,000 U.S.
SERVICE MEMBERS. WE'LL HEAD TO GERMANY. WGN'S GAYNOR HALL HAS BEEN MONITORING DEVELOPMENTS ALL DAY. YEAH, BEN AND LOURDES UKRAINE'S PRESIDENT HAS BEEN CALLING ON CIVILIANS TO FIGHT APPEALING FOR HELP. >> BEN BRADLEY: WHILE THIS ASSAULT IS UNFOLDING ACROSS UKRAINE, GLOBAL LEADERS ARE RESPONDING WITH STRONGER SANCTIONS.
>> IS THE AGGRESSOR? SHOWS THIS WAR. AND NOW HE AND HIS COUNTRY WILL BEAR THE CONSEQUENCES. PRESIDENT BIDEN ANNOUNCING ADDITIONAL SANCTIONS ON RUSSIA GOING AFTER THE COUNTRY'S ELITES, LARGE BANKS AND COMPANIES AND TECHNOLOGY EXPORTS. >> RUSSIA UNLEASHING AN ASSAULT ON UKRAINE FROM MULTIPLE DIRECTIONS AND AFTER A FIERCE BATTLE, UKRAINE LOST CONTROL OF CHERNOBYL.
THE SITE OF THE WORLD'S WORST NUCLEAR DISASTER. >> GAYNOR HALL: BUT BIDEN SAYS THE RUSSIAN PRESIDENT'S AMBITIONS ARE MUCH BIGGER THAN UKRAINE. HE WANTS TO, IN FACT. >> RE ESTABLISH THE FORMER SOVIET UNION.
THAT'S WHAT THIS IS ABOUT.
>> GAYNOR HALL: FAMILIES FLEEING THE VIOLENCE ARE CROSSING THE BORDER INTO POLAND. AND, YOU KNOW, FRIENDS, EVERYBODY, EVERYBODY IS IT. >> HE'S IN GEAR, YOU KNOW, AND CLOTHING AND SHOWING WHAT IS GOING TO WIN AND IT'S >> GAYNOR HALL: AND IN SEVERAL RUSSIAN CITIES, POLICE REPORTEDLY DETAINED HUNDREDS AS ANTI WAR. PROTESTERS TOOK TO THE STREETS. RUSSIA'S PRESIDENT VLADIMIR PUTIN RECEIVING INTERNATIONAL CONDEMNATION.
>> NOW WE SEE HIM.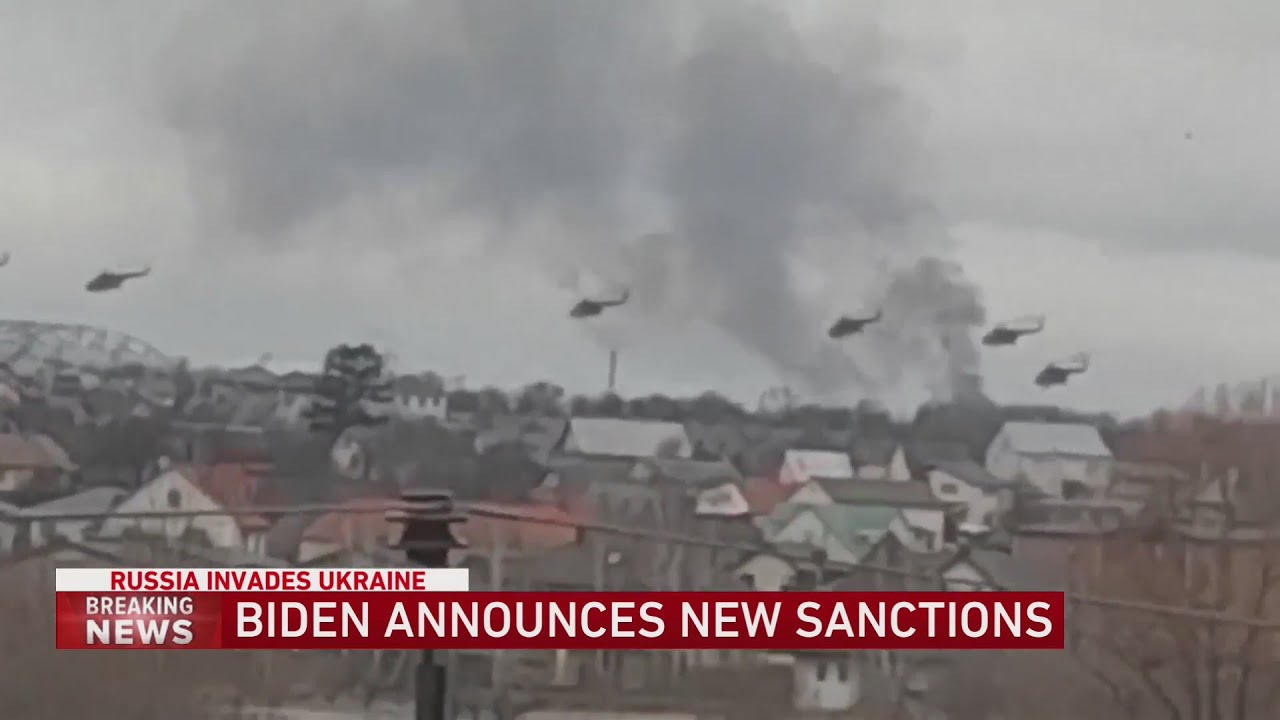 FOR WHAT HE A BLOODSTAINED WHO BELIEVES. >> GAYNOR HALL: IMPERIAL CONQUESTS, HOOTEN CALLING THE ATTACK A NECESSARY MEASURE TO PROTECT RUSSIA'S SECURITY WARNING INTERFERENCE WOULD LEAD TO CONSEQUENCES. NEVER SEEN BEFORE. SO WHO WOULD FOR >> DURING DOESN'T JUST AS OF THE PRINCIPAL.
SO YOU MIGHT ADMISSIONS, CHUCK, MAKE NO MISTAKE. IT'S NOT MILITARY OPERATION. WHATEVER IT WAS COOL YESTERDAY IN DONATES GUNS. IT'S THE WORD AGAINST UKRAINE. >> GAYNOR HALL: BUT PRESIDENT BIDEN ALLIES HAVE NOT TAP THE MOST AGGRESSIVE SANCTIONS IN THEIR ARSENAL.
UKRAINIAN PRESIDENT VOLODYMYR ZELENSKY URGED THEM TO CUT RUSSIA FROM THE SWIFT FINANCIAL NETWORK THAT CONNECTS BANKS AROUND THE WORLD. AND BIDEN SAID DIRECT SANCTIONS ON ARE STILL ON THE TABLE. THIS AGGRESSION CANNOT GO UNANSWERED. PRESIDENT BIDEN IS SAID THE SANCTIONS WERE DESIGNED TO NOT DISRUPT GLOBAL ENERGY SUPPLIES.
MORE AMERICAN TROOPS ARE HEADED TO EUROPE.
BIDEN EMPHASIZING THAT U.S. FORCES WILL NOT FIGHT .